As he slipped on the slide we heard first Unmarked Road, with an upbeat tempo and some great solo breaks showcasing is stylish use of the slide as he continued with Raylene with that twist of Rock 'n' Roll the baby of the blues. Closing the packed first set with Big City Woman a Mississippi hill country number inspired by the likes of Mississippi Fred McDowell and Junior Kimbrough "… I just modernize it up!"  This number is about a women who talked so much you make me tired; we were definitely not tired of Doug we all sat back and marveled at what we had just heard and delighted that there was more to come.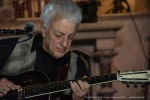 The second set was crammed full of more delights that Doug played including Vanetta about a tall long-legged women with a beautiful smile from his latest album Exactly Like This. He mixed up the beat with some rag-time with Zu Zu Woman and My Loves Grown Cold inspired by Blind Willie McTell; making the guitar weep and wail with his exquisite slide technique.

A song all about overcoming adversity Brand New Eyes; from his album of the same name is about looking at things from a new perspective a philosophical song that is powerful. We heard about Dubb's Bucket Theory that if a bucket has one or more holes in it due to life's adversity the love will drain away and the solution is to fill the holes in not demand more love and this converted into Welcome In Your Home using the bucket theory to great effect.

It is quite incredible the range of sounds and depth of tone that Doug teased out of his resonator guitar with no effects just the skills of one man and his guitar plus a brass slide and a capo truly one man and his guitar. Doug MacLeod, never plays the same set twice and the same song the same way as he told us his playing is Exactly Like This. Tonight live we heard music that entertained, made us laugh, cry, reflect and feel happy; he is the real deal story telling bluesman the guitar playing second fiddle to the lyrics. Entertainment at its best follow the LINK to NETGIG to stream in your home NOW!